Introducing theTH-D74E for the Ultimate in APRS® and D-STAR® Performance
Lær mer om TH-D74E. Klikk her for og se video.
---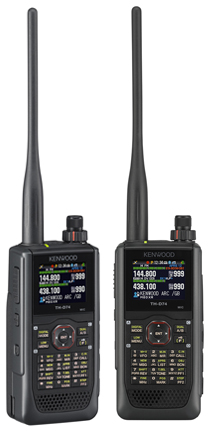 August 8, 2016 – KENWOOD has already garnered an enviable reputation with the TH-D72A/E handheld APRS® amateur radio transceiver. Andnow it has raised the bar even further with the new TH-D74A/E, adding support for D-STAR®, the digital voice & data protocol developed by the JARL, and enabling simultaneous APRS and D-STAR operation – an industry first. As well as offering intuitive operation and rugged IP54/55 weatherproofing, this top-of-the-line portable transceiver features built-in GPS, wide-band multi-mode reception, IF filters, DSP equalizer, a transflective TFT color display, microSD memory slot and Bluetooth/USB connectivity.
Key features 1. APRS packet transfer communications for exchange of real-time GPS positional information and messages • Color display includes compass with station information (relative distance, heading and speed) or weather conditions (rainfall, temperature & humidity, wind direction/speed, pressure) • Storage capacity for 100 fixed/mobile/weather stations and objects/items • Messages exchanged with other APRS stations in real time • Built-in KISS TNC for managing APRS on a computer • Rapid QSY using frequency embedded in beacon
2.D-STAR for voice/data transmission over digital amateur radio networks • Simplex, semi-duplex, Zone, and IP Gateway modes for local, wide or worldwide digital communications • DV (digital voice) and DV Fast Data mode (transmits data in unused voice frames for transfers that are 3.5 times faster) • DR (D-STAR Repeater) list downloadable from D-STAR website • Direct reply following receipt (just press PTT) • Icon shows repeater availability when kerchunking • TX/RX history (max. 120 items) for easy recall of parameters for a particular station • Rapid QSY using information from D-STAR repeater
3.Multi-band, multi-mode reception • 0.1 to 524 MHz wide-band continuous reception on Band B (sub-band) • FM/NFM/WFM/AM plus SSB/CW • Dual frequency reception (VxV, UxU, and VxU) • Simplified zero-in with variable fine-step (20, 100, 500 and 1000 Hz) • Ferrite bar antenna for mid- and low-HF bands 4.IF filters to reduce adjacent frequency interference (SSB: 2.2~3.0 kHz; CW: 0.3~2.0 kHz; AM: 3.0~7.5 kHz) 5.IF OUT mode to make IF signal (12 kHz center frequency, 15 kHz bandwidth) available via the Micro-USB port 6.High-performance audio equalizer with DSP


Selected Accessories
(Consult your local dealer for all available accessories)